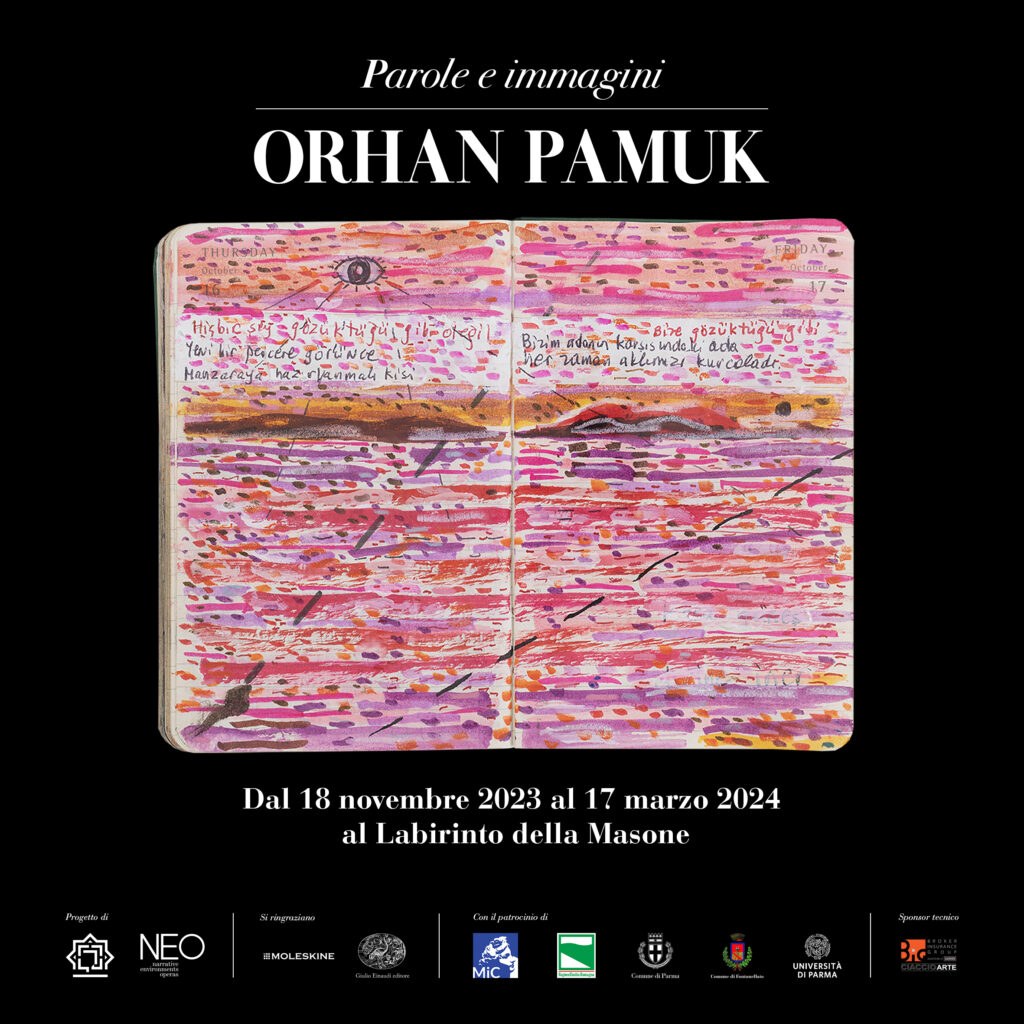 ORHAN PAMUK.
Words and Images
November 18, 2023 – March 17, 2023
Curated by Edoardo Pepino
Project by NEO (Narrative Environments Operas)
This fall season, the Masone Labyrinth welcomes a major new exhibition dedicated to the little-known graphic production of acclaimed writer Orhan Pamuk, who was awarded the Nobel Prize for Literature in 2006.
For more than ten years, day after day, Pamuk has been filling the pages of his notebooks with words and images: twelve of them will be exhibited and contextualized within a custom-designed setting.
These fascinating notebooks will also be narrated by the author himself in a new documentary projected within the galleries, giving visitors an in-depth look at the Turkish writer's world.
Until now, Pamuk's colourful, often dreamlike pages have remained unknown even to his most ardent admirers. Indeed, his notoriety as a writer has prevailed over his talent as a visual artist (and this private body of work risked being seen only by friends and family); but the graphic medium proved necessary to express concepts for which words did not suffice. The need to write and draw together, crowding the limited space of the blank page with images and text, developed into an instinctive artistic practice in which literature, thought, and drawing are inextricable.
Pamuk's first illustrations date back to 2009 and the most recent are from this year, as his graphic production continues uninterrupted to this day: visual poetry, dream-like scenes, and travel notes alternate in the pages of the notebooks as expressions of Pamuk's inner world. A profound knowledge of drawing technique emerges, as do insightful reflections on artists of the past, whose work the author knows well. He has long written, in fact, of his appreciation for artists such as Anselm Kiefer, Raymond Pettibon, and Cy Twombly and is indebted to the innovative ways in which they make use of both gestures and words as compositional elements.
In the first room of the exhibition, notebooks chosen by the author and curator will be displayed open, showing a selection of the most significant images. Digital screens will provide a more complete view of their contents, allowing visitors to scroll through the pages, zoom in on the numerous illustrations, and read the translated texts. The video projection of a new interview with Orhan Pamuk in the second room will provide more insight into the novelist's poetics as he discusses the relationship between words and images.
The last section of the exhibition constitutes a more intimate space: the layout of the third room is inspired by the writer-artist's home, with its privileged vantage point for observing his city of Istanbul and the worlds it encapsulates.
Pamuk's landscapes, in fact, are almost never depicted from the position of those immersed in them: there is a separation between the view on the world and the world itself, and windows thus become a key element in his compositions, a threshold opening onto a reality at once near and distant.
Six adjacent and slightly overlapping screens evoke the windows of the dwelling, on which projected images from the notebooks alternate with photos and written notes in an intermingling of dreams and events. Imagination and reminiscence thus merge, creating a language made up of juxtapositions, sensations, and memories, in black and white and colour. "Big, heavy" Turkish carpets, like those Pamuk himself describes in his memoires, are also arranged in the room: a metaphor for the author's grounding in the personal dimension, they are intended to encourage visitors to access his inner world by sitting and observing it.
On the occasion of this exhibition of Pamuk's notebooks, Moleskine, in collaboration with Franco Maria Ricci, celebrates the thoughtful and reflective gesture of putting pen to paper with a special, limited edition. We consider it a "conceptual catalog" of the exhibition, which visitors can compose themselves in their own hand, writing and drawing as they see fit: handwriting, after all, is a universal and at the same time highly personal gesture. Moleskine notebooks, the legendary notebooks used by artists and thinkers over the past two centuries – including Orhan Pamuk – are recognized the world over as an icon of contemporary culture, a symbol of creativity that connects eras, cultures, and people.
The exhibition is open daily, except Tuesdays, from 09.30 a.m. to 6 p.m. with the last admission at 4.30 p.m.
Admission is included with entrance fee to the Masone Labyrinth.